Get a Bright Smile with Zoom!® Whitening
Posted by Dr. Bird on Mar 10 2021, 04:22 AM
No one likes to walk around with a dull and discolored smile. However, teeth stains are inevitable; they can be caused by many reasons, including aging, eating colored food, drinking beverages like coffee, tea, wine, soda, smoking, etc. The fact of the matter, though, is this: you can get a healthy and clean set of teeth with regular brushing and flossing, but it may not always provide you with a bright white smile. 
If you want to achieve a flawless white smile, dentistry offers you various options - both at a dental office and at home. However, teeth whitening done in a dental clinic is the safest and most effective way to remove discoloration and whiten your smile.
Research conducted by the American Association of Orthodontists states that almost 90 percent of patients wish to achieve brightened teeth. People may want to whiten due to various reasons - to impress someone special, for special occasions, or to flaunt a white smile every day.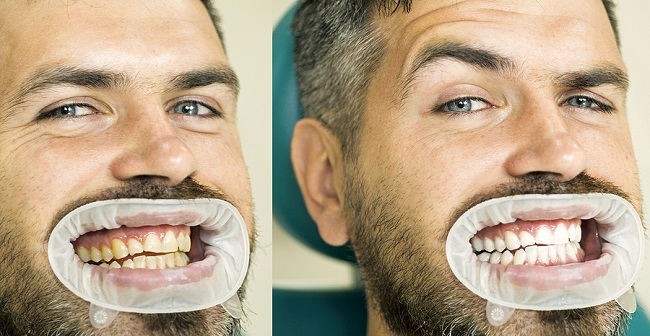 Either way, if you want to whiten your teeth to get the best results safely and effectively, Zoom!® In-Office Whitening System is the best option for you. With its proprietary technology, the procedure helps to whiten your teeth an average of six shades* in a little over an hour while you relax at our dental office to get immediate results. 
What is Zoom!® Whitening?
Zoom!® Whitening treatment is a bleaching procedure used to treat tooth enamel discoloration to result in bright, white teeth. The procedure starts by covering the lips and gums to protect them from the gel. A bleaching solution containing hydrogen peroxide as its main ingredient is applied to the teeth with the assistance of specially designed trays. After placing the trays in position, a laser is used to heat the solution, activating the oxygen molecules that enter the enamel and dentin to bleach the stained substances. The process allows the bleaching solution to dissolve the surface stains and is even effective in pronounced discoloration cases. The treatment takes a little over an hour to complete.
Benefits of Zoom!® Whitening
Unlike the store-bought teeth whitening trays, kits, or gels that might irritate your gums, cause sensitive teeth or whiten only some of your teeth, Zoom!® professional whitening treatment gives guaranteed quick, reliable results. 
During the whitening treatment, all front teeth are treated simultaneously and produce equal results.  
Since the Zoom!® whitening treatments use professional-grade bleaching agents, they are effective and fast in removing the most troubling stains. The treatment can be finished in a single appointment to produce excellent results.
Zoom!® whitening treatments offer long-lasting results as compared to other techniques. 
Zoom!® whitening techniques help prevent future staining and discoloration of the teeth.  
Unlike other whitening techniques that may cause teeth sensitivity, the Zoom!® Whitening procedure causes little or no sensitivity at all. 
Taking Care of Whitened Teeth
Zoom!® Whitening results in whiter, brighter teeth lasting from six months to two years. However, with proper maintenance and taking care of the teeth, the results can last even longer. Brush twice a day and floss at least once every day. Also, never skip your regular teeth cleaning and checkup appointments. Avoid or reduce the intake of foods and beverages that may discolor your teeth. 
Remember, the money you spend on teeth whitening procedures is worth every penny, as it doesn't just whiten your teeth; it can also improve your life! If you have a dull or discolored set of teeth and want to whiten them, contact us to book an appointment or for inquiries!